Weld plastic using extrusion techniques – PMBWELD309B
Extrusion Welding will give you the ability to weld plastic lining to secure a pond, repair a poly water or fuel tank, and seam plastic sheeting. This course explores a variety of techniques such as extrusion and hot air, for bonding PE materials together where butt and                                                            EF welding are just not an option.
                                                        Course Duration: 2 Days
                                                        Location: Nation Wide
The following link will enable you to download an interactive PDF copy of our enrolment form. Please complete the form and return it, along with a valid company purchase order and credit card details to info[at]polyweldtech.com.au.
Alternatively, don't hesitate to call us on (08) 9452 3000.
 PWT Enrolment Form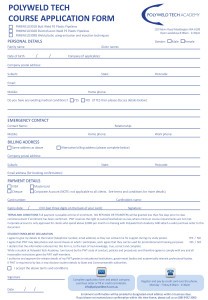 Please fill in the fields below and one of our team members will be in contact with you shortly.