Butt Weld Polyethylene Plastic Pipelines  – PMBWELD301B
Our Butt Weld course explores the methods, materials and applications of Butt Welding polyethylene pipes and fittings, materials and composition, applications and pressure ratings to using a variety of equipment- manual or auto with                                                                    varying methods.
                                                         Course Duration: 1
                                                         Location:  Nation Wide
The following link will enable you to download an interactive PDF copy of our enrolment form. Please complete the form and return it, along with a valid company purchase order and credit card details to info[at]polyweldtech.com.au.
Alternatively, don't hesitate to call us on (08) 9452 3000.
 PWT Enrolment Form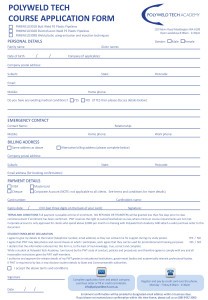 Please fill in the fields below and one of our team members will be in contact with you shortly.